POLOphone (Domestic/Small Commercial)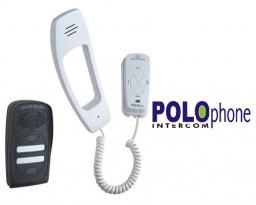 The POLOphone is a uniquely styled intercom system that offers outstanding features, state of the art design and excellent value for money. The POLOphone is also a proud winner of the prestigious SABS Design Institute's Design Excellence Awards.
The expandability of the POLOphone is quite exceptional. From a basic one-to-one kit for the average home, simply add components to the system to expand it into an ideal system for larger houses or small office installations. POLOphone can accommodate up to four handsets with a single entry panel or three handsets with two entry panels. Adding to its versatility you can intercommunicate between two groups of handsets in the system.
The POLOphone intercom system could not be simpler to install, using a two wire bus throughout. Connect entry panels and phones to any point on this bus and the system is up and running. Added to this, the system only requires a low current 12V DC power supply. It can be connected to the battery of a CENTURION gate motor for power failure protection.
From each handset, the gate motor, or door lock adjacent to the entry panel, can be operated. An auxiliary pushbutton is also provided for activating a secondary function such as the pedestrian-opening on the gate motor. In addition, the gate motor status feedback signal can be wired to the built-in indicator LED located in the cradle of each handset.

Main features

Fashion meets function
The CENTURION POLOphone intercom system works even better than it looks. Operate your gate, door lock and even program the POLOphone's spare auxiliary button to perform a function like turning on a light – all from the comfort of your own home.
Simple installation
Getting connected is easy. The POLOphone uses a common two wire bus – just connect entry panels and handsets to any point in the bus and you're ready to chat. You can even upgrade an existing doorbell system to have audio communication without changing any wires.
12V operation with optional battery backup
The POLOphone intercom system only requires a low current 12V DC supply that can be connected to either the entry panel or any handset – whichever suits you best. Battery backup ensures that your conversation will never be cut short.
Expandable
When others want to join the conversation, expanding is easy. You can start off with a One-to-One Kit and just add more handpieces when you need them – making the POLOphone ideal for large homes and small offices. As you expand the system, the call operation can be changed without changing any hardware to suit the requirements of the installation.
Intercommunication
You don't only have to have a conversation with the guest at your gate – you can call any POLOphone in your home. Now there's no need to scream "WHERE'S MY COFFEE?" down the corridor. Just pick up your POLOphone, call the kitchen from your study and politely enquire as to the whereabouts of your warm beverage. The system is clever enough to switch off the entry panel so that passers-by can't listen.
Built-in lightning protection
Mother Nature is unreliable. The POLOphone is anything but! Lightning and electrical surge protection come standard – so it's always on.
Indicator LED for each gate status
For added safety and security, an LED lets you know if your gate is open, moving or closed. You don't have to peer out your window to check if your gate is wide open – only to find that your dog has got a hold of the postman again.
Single and dual call button Modes of Operation
Either set both entry panel call buttons to ring all the handsets in the system – or set each call button to ring the group of handsets linked to it. This allows for greater flexibility when you want to add more POLOphonehandsets to your home or office.