G-Speak Classic+ – Advanced GSM-Based Intercom System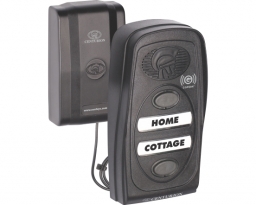 The G-SPEAK GSM-based intercom system is ideal for people on the move. Utilising your mobile phone as a handset you can answer your intercom, and open your gate, from just about anywhere. Lengthy, expensive cable runs are a thing of the past.
The G-SPEAK Classic+ advanced GSM-based intercom system offers the amazing freedom, security and convenience of being able to answer your intercom from anywhere in the world, and also includes advanced functionality such as the high-security Eavesdropping feature and input monitoring.
Main features
Wireless convenience
You know how people are always saying 'less is more'? Well, when it comes to less wiring, we believe that less is less: less money, less time and less effort, that is! With the G-SPEAK GSM-based intercom system, your phone acts as the intercom handset so there is no need for expensive cable runs back to the house.
Up the security ante
With the G-SPEAK system, you can answer your intercom from anywhere in the world, giving the appearance that you are always home. This greatly enhances security and acts as a deterrent to would-be intruders. In addition, only learned-in, authorised phones are able to access the system.
The G-SPEAK Classic+ system includes two high-security features:
• Listen Mode – mutes the microphone at the Calling Module so that you can listen inconspicuously
for any activity at your gate
• Talk Mode – use this feature to scare away loiterers at the gate
Open your gate from anywhere
The G-SPEAK Classic+ offers up to 100 users the ability to open an entrance gate from anywhere in the world via a free missed call. You don't need to compromise the security of your home by giving your garden services or repairmen keys or remotes; you can give them limited access even if you're chilling on a beach in the Bahamas! You are firmly at the controls.
Control and Monitor
With the G-SPEAK Classic+, we're giving you the ability to monitor plus control up to four channels, independently configurable as either inputs or outputs. Now that's the kind of arithmetic we like!
• Receive SMS notifications* on your phone of:
– Gate left open
– Infrared safety beams obstructed
– Alarm activated
– Mains failed
• Control* up to four different electrical devices via a missed call (free) or SMS:
– Open your gate from anywhere in the world
– Switch a pool pump on and off
– Control a geyser or generator
– Activate irrigation systems
– Switch on lights
– Arm an alarm
*Certain functionality may require additional interface devices such as relays, isolators, etc.
Easy, fast and secure setup
Your new or existing G-SPEAK Classic+ intercom system can be effortlessly configured and administered via SMS commands sent directly from your mobile phone.
Your voice will be heard!
And so will the voices of your visitors! G-SPEAK delivers crystal-clear speech quality thanks to state-of-the-art GSM technology.
Weatherproof enclosure for greater reliability
The G-SPEAK Calling Module boasts an impressive IP55 rating, making it perfect for outdoor use. Mother Nature keeps on knocking but she can't come in – a tough-as-nails ABS plastic housing makes sure of that.
Compact design
The combination of your intercom and your gate forms a welcoming committee for visitors, so you want to be sure that it looks good. The G-SPEAK Calling Module has an attractive, compact design making for an aesthetically pleasing installation. A white LED backlight makes for beautiful low-light visibility of the Calling Module.