i5 (Hard-wired)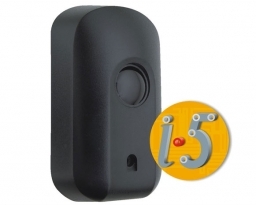 Enhanced security features such as automatic closing, designed to ensure that the gates will always close automatically, are not recommended to be activated without the use of safety beams.
i5 infrared beams from CENTURION are simple to align, extremely reliable and boasts an operating range of up to 40m. It can be used on gates, garage doors, and even for simple perimeter protection.
The i5 beams are compatible with supply voltages from 12 to 40V DC. These versatile beams can be used on almost any gate or access automation equipment found in the market.
Main features
Easy to align
With a massive 9m2 (3m x 3m) alignment area, the CENTURION i5 infrared beams practically aligns themselves! No more battling onsite with beams that simply won't align – the wide beam cast by the i5 transmitter makes this formerly painful process an absolute dream!
Highly cost-effective
One can't put a price on safety – but you'll be happy to know that CENTURION i5 beams deliver a highly cost-effective detection solution. With these CENTURIONs installed, your gate won't break your car and it won't break the bank either!
Easy commissioning thanks to LED indicators
Both the transmitter and receiver are fitted with a green LED indicator to help you quickly and effortlessly commission the system and also helps you with any diagnostic exercises.
Suits even the widest of entrances
i5 beams work over a distance of up to 40m, making it suitable for even very wide entrances. No matter how big the entrance, nothing is getting past i5!
Compatible with Intruder-detection Alarms
Safety and security has always gone hand in hand, and i5 infrared gate safety beams further enhances this happy union via full compatibility with the Intruder-detection Alarms (a world first) found on certain CENTURION operators.
Wide power input range
i5 offers you the freedom to use the power supply most suited for your application. It's automated gate safetywithout limitations!