MKII (GSM/Multi-unit)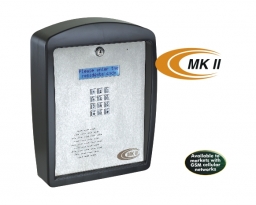 Cellular network-based multi-unit intercom system that allows convenient screening of visitors at the entrance to residential or business properties before allowing access.
The MKII intercom system offers the user management and administration features to maximise the functionality that that GSM based intercom systems can offer.
It is exactly this mobile and globally based communication technology that positions the MKII at the frontier of intercom system technology.
Differentiating features
Fully-integrated with CENTURION remotes
The MKII intercom system integrates with CENTURION's ultra-secure code-hopping remote controls. Using a MKII CENTURION Loader*, these can easily be added into the system. You can easily administer remote controls that have been learned into the system over the internet. This may include assigning them to units, selectively deleting or time-barring specific remote controls, and automatically logging remote control transmissions.
*MKII CENTURION Loaders are available from Centurion Systems
GSM – Global system for mobile communication
Mobile communication has redefined the world as we know it and is integrated into every individual's daily life. That is why a digital, mobile telephony system is the answer to efficient and effective secure, intercom systems. With the MKII there is no need for add-on modems and modules to use SIM cards. This feature also makes the MKII system less prone to lightning.
Mobile alert structure
The Input Management Structure alerts complex managers, administrators and security guards via SMS when the electric fence alarm is activated and/or when the entrance or exit gate gets stuck opening. What makes this MKII feature even more unique when compared to competitor products is that it allows various settings and alert categories to match any type of installation. It is also completely programmable making it ideal for the various needs of different complexes. It also logs when the lid has been opened.
So easy to use!
The MKII is user-friendly and very easy to operate and manage. No hassle, no fuss.
Flexibility
The MKII intercom system allows three telephone numbers to be saved per individual unit, providing a well-received level of flexibility for both user and visitor. Security can contact residents whether they are in their house, out of town on their cellphone or landline; and residents are fully aware and in control of who is visiting. Reinforcing the flexibility and cost-efficiency of the MKII, especially for its users, is the unique PIN code access control. This allows users (complex residents) to enter one of two PIN codes per unit, upon entering the complex; enabling the resident to enter the complex without incurring additional costs for additional access control devices.
Time-based access control
This feature increases the security levels necessary in multi-unit establishments such as housing complexes or estates where staff or contractors may require access on a daily basis. Conveniently, the MKII intercom system's gate triggers can be set to only respond to certain remote controls or PIN codes during certain periods of time, such as 07h00 to 08h00 and 16h00 to 17h00, giving the complex the ability to allocate PINs and remote controls to people with limited access.
Main features
Quick and easy installation, no wiring other than mains supply – operates via cellular network
Uses new embedded SIM technology  – does not need a SIM card (SIM chip is not compatible with all networks. Please enquire.)
Cellphone or fixed line telephone doubles as an intercom handset and can receive calls from the gate station, and activate the entrance gate and up to two other access control devices
Visitor can select from up to three contact numbers per unit to call
Allows for visitor departure control (Free-exit facility)
Convenient web-based interface for system updating and reporting
Battery backup and built-in lightning protection
Robust and durable entry panel
CENTURION rolling code remote control integration and management§
Time-based access control
PIN code entry (two pre-programmed codes per unit)
Programming can be done online* or manually at the unit
Bulk SMS and email to complex residents
Individual resident reporting for phone bills and gate openings
Both successful and attempted-only gate openings are reported
Unlimited, controlled access for residents
Ability to communicate with security personnel at the gate
Back-lit LCD display (double line)
Weatherproof enclosure suitable for outdoor or indoor environments
Online resident database administration
Quick and reliable synchronisation and firmware updating
 Both successful and attempted-only gate openings are recorded§Built into the MKII requires optional CENTURION rolling code receiver with MKII firmware, as well as the MKII CENTURION Loader, both of which are available from Centurion Systems
*requires a web access voucher
Report system capabilities
Gate Access Report
Gate access operations i.e. the number dialled, PIN codes used, remote controls used, as well as the time, date and description of the gate opening.
Telephone Usage Report
Distributes the total monthly cost billed to you by your cellular service provider on a per second basis, according to each unit's call usage. This report provides the unit's number, total call duration in seconds, unit's overall system usage and the total amount due from each unit.
Audit Report per Complex
A complete report of edits or changes made to a unit's record during a specific period. The report records the date and time of change, who made it, as well as the action performed and the unit affected.