ViRDI AC 4000 RF Biometric Reader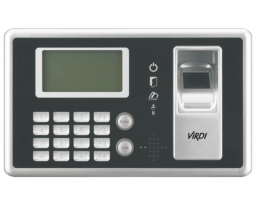 Biometric technology is widely considered to be the most effective and reliable means of controlling access, and the acclaimed ViRDI range offers some of the most technologically advanced solutions on the market today. With its patented Live and Fake Fingerprint Detection technology, and boasting individual registration and authentication, automatic finger scanning as well as push communication technology, ViRDI has truly earned its place as one of the world's leading biometric access control manufacturers.
The ViRDI AC 4000 RF system uses award-winning Fingerprint, PIN and RF/SmartCard authentication. Its next-generation fingerprint scanning technology, large LCD and fast processing speed lead to a terminal that allows for maximum security for the site and convenience for the user.
Main features
22 000 user fingerprint template capacity
Patented ViRDI Fake Fingerprint Detection – can detect fingerprints made from paper, silicon, wax, etc.
Sapphire crystal lens and 500dpi optical sensor – scratch-free, high-resolution fingerprint detection
Fast authentication speed (1:1 < 0.5 seconds; 1:N [1000] < 1 second)
Can operate in a standalone mode or on a TCP/IP or Wiegand network
Interphone integration for Visitor Control
Access control, Time and Attendance and Meal Control