ViRDI AC 2100H RF Biometric Reader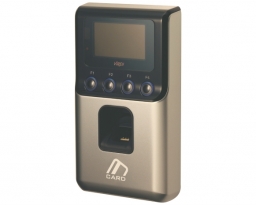 Biometric technology is widely considered to be the most effective and reliable means of controlling access, and the acclaimed ViRDI range offers some of the most technologically advanced solutions on the market today. With its patented Live and Fake Fingerprint Detection technology, and boasting individual registration and authentication, automatic finger scanning as well as push communication technology, ViRDI has truly earned its place as one of the world's leading biometric access control manufacturers.
The ViRDI AC 2100H is a practical and affordable fingerprint reader with Fake Fingerprint Detection Technology.
Main features
1500 user fingerprint template capacity
Patented ViRDI Fake Fingerprint Detection – can detect fingerprints made from paper, silicon, wax, etc.
Sapphire crystal lens and 500dpi optical sensor – scratch-free, high-resolution fingerprint detection
IPX3 rating – can be installed in most locations IPX is an international waterproofing standard. It can be installed in virtually any location
High-performance processor for fast fingerprint authentication
Can operate in a standalone mode or on a TCP/IP network, as well as a Wiegand-interfaced device
Built-in Smartcard/RF card module for added security or to facilitate 1:1 searches
Auto-sensing and reading of a finger on the reader – saving energy and reducing battery usage during power failures