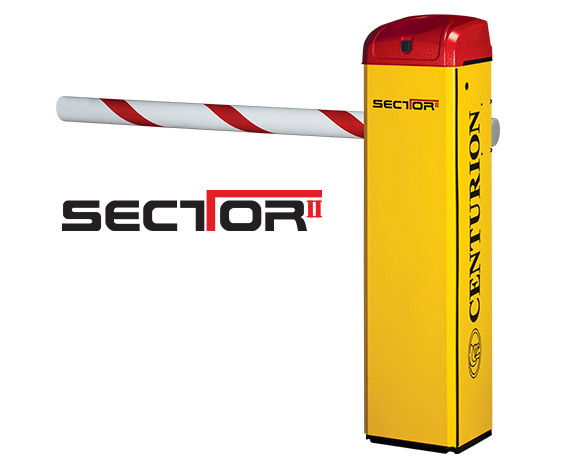 Introducing the heir to the throne of high-volume vehicular access control. With an updated look that perfectly matches its superior performance, an optimised design for the ultimate in ease of installation and boasting the awe-inspiring speed that made its predecessor king of the access control jungle, the SECTOR II is the embodiment of automation evolution.
Main features
Rapid opening
Lots of vehicles coming in and out? You need something that goes up and down. Fast! The SECTOR II is ideal for high-volume traffic control applications and puts a manically ticking metronome to shame – raising a three metre pole in under 1.2 seconds and lowering it just as quickly.
Battery backup
With our 12V battery driven motor, your security is never compromised. The CENTURION SECTOR II will continue to stay on, even when the power is off – beating up and down 3000 times during a 24 hour power failure before it needs a recharge. If you're expecting no power for a while, the built-in mains failure detection can be set to keep the barrier raised under power failure conditions.
High-torque boom pole operation
The SECTOR II's DC motor and reduction gearbox generate enough torque to make sure that your boom goes up and down forever and ever. Come sunshine, rain or howling winds, you'll always be able to get in and out.
Safe sensitivity for boom pole lowering
Your boom won't go BOOM on top of a visitor's car. The SECTOR II will detect any obstruction, so you're safe – and won't have to fill in any of those pesky insurance forms.
Robust, durable and slimline operator casing
Our slim SECTOR II looks particularly fetching – and epoxy-coating, in a highly visible 'traffic yellow', keeps it safe from drivers with terrible eyesight. Available with different levels of corrosion protection for inland, coastal plains, and marine environments.
Easy access to electronics
It's so easy and comfortable to set up the SECTOR II's many advanced features thanks to the clever, ergonomic design of the housing, with the electronic assembly at the top of the operator at the perfect working height.
When size matters
Whether closing off an entrance from as narrow as three metres to as wide as six metres, there is a SECTOR II model to suit. Fit the optional jack-knife and your SECTOR II traffic barrier can even be fitted in areas with limited headroom.
Improved cable routing and securing for the neatest installation
Every aspect of the SECTOR II has been designed to streamline installation and ensure that your access control system not only works hard, but looks good, too. Tie strap sockets have been provided on both the cabinet and the electronics tray, with cable routing down the front flange of the cabinet, resulting in an installation that's as neat and tidy as an officer in uniform.
Comprehensive input and output
With our intuitive, user-friendly LCD interface, setting up the SECTOR is not just simple – it's child's play. Set the SECTOR to handle any vehicle access control application with the touch of a button. To make things even easier, our state of the art motor controller not only ensures smooth and reliable operation, it allows you to set your boom's opening and closing speed to your liking.
Onboard loop detector support
If you'd like to fit an additional loop, simply clip a CENTURION loop detector into the convenient custom bracket, connect the loops and you're good to go! 11-pin loop detectors are also supported.
Operate wirelessly, thanks to CENTURION1
Besides its code-hopping technology offering the highest level remote control security, this CENTURION onboard receiver is both multichannel and multi-user, allowing a multi-button remote to operate any combination of the system inputs, such as Barrier Raise, Barrier Lower, etc. It stores up to 500 transmitter buttons, and amongst other access control features, it provides the ability to selectively add and delete transmitter buttons saved into its memory.
1. CENTURION code-hopping
Available in three stunningly beautiful colours, all sporting the striking crimson crown. Please note that a price premium applies for the gun metal grey variant.
Models
SECTOR 3 – Rapid speed high-volume barrier, 3m boom pole
SECTOR 4.5 – Standard speed high-volume barrier, 4.5m boom pole
SECTOR 6 – Standard speed high-volume barrier, 6m boom pole