R5 (Light-industrial)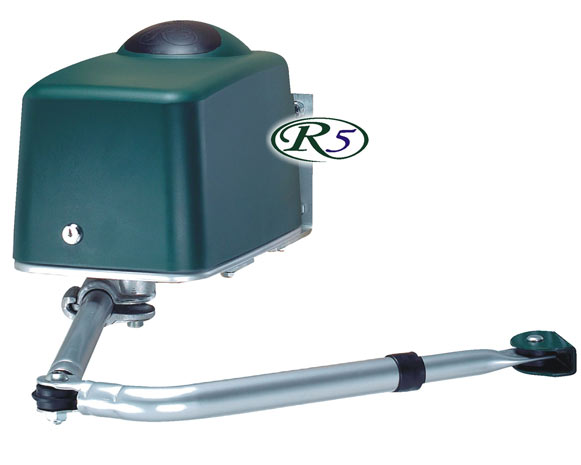 The smooth operator for swing gates
The CENTURION R5 rotary swing gate motor is well suited for higher volume sites such as entrances to housing estates and business parks. It can handle gates up to 3.5m wide per leaf weighing no more than 250kg.
The R5 also offers battery backup and with the electronic controller and power supply mounted in the Master motor and with the option to wall mount the operator, installation is greatly simplified.
As with the sliding gate range of operators, these battery driven swing gate units can also be adapted to operate off a solar power supply
Main features
Smooth and reliable
The sinusoidal motion of the CENTURION R5's rotary arm ensures that, without any fancy speed control, your gate smoothly accelerates – then gradually comes to a graceful stop. Beyond just looking more professional, this fluid movement actually extends the lifetime of the gate motor. No shock loading or jerkiness means the R5 will serve you for many years to come.
Easy to install
No cutting, drilling or welding necessary. Our ingenious fully adjustable mechanical linking system makes the R5 almost too easy to install. Change the length of the drive arm to suit, then adjust the connecting arm length like you would a ski pole. The R5 does all the hard work for you.
So versatile
You can mount the R5 on a pedestal away from your gate for best locking of the system and optimum security. If you prefer the minimalist look, mount the operator to the gate pillar via a wall bracket so it's out of sight.
Safe and quiet functioning
If you live in a busy townhouse complex, the constant drone of a noisy gate motor may drive you over the edge. Thankfully, the CENTURION R5's geared DC motor is very hush-hush and won't disturb the tranquility. You'll think you're living on a quiet retreat in the country.
Rapid operation
There's nothing more annoying than a slow gate when you just want to get home. The R5 swings open at an invitingly fast pace. If you're paranoid that someone may sneak in behind you, use the Beam Autoclose feature (PIRAC)1 to set your gate to automatically close the moment you have driven in and ruin any criminal's day.
1. Inductive loop or infrared safety beams must be fitted
Accurate position control
Innovative internal position control makes installation easy. Sensitive anti-crushing control means that your car and your children's limbs are safe. Should the R5 detect even the tiniest obstruction, your gates will stop and immediately reopen – we wouldn't dare ruin your arrival.
Secure locking
There will always be someone who wants what you have. Fortunately, an irreversible gearset makes sure that the CENTURION R5 is locked tight. Nobody can tamper with it and get onto your property.
Proven lightning protection
Nothing's going to rain on your parade. More than 15 years worth of research has been put into the lightning and surge protection on our R3 rotary swing gate motor. Come sunshine or rain, you can rely on the R5.
Uninterrupted operation
The R5 switches seamlessly between battery and mains and can even be solar powered. You can always get in – even if the power is off. It's actually extremely difficult to stop our R Series from serving you.
Multiple operating features
Customise the R5 to your exact requirements with a number of different operating features. Whether you need a gate motor for your home or a townhouse, the R5 swings to your style.
Lifetime of service
Manufactured to the ISO9001:2008 quality standard and CE certified, it's unlikely that your R5 would ever spoil your day. However, should you require any assistance, an extensive network of qualified installers and technicians is just one phone call away.