IT24N (Domestic/Light-industrial)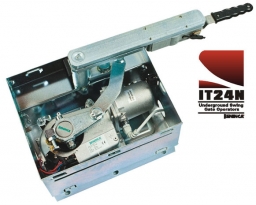 Do you require a gate motor that will offer reliable, smooth operation with secure closing and is almost invisible?
Look no further than the IT24N underground swing gate system. The operator is mounted flush with the ground coupling, directly to the underside of the gate, to provide effortless opening and closing. It is completely hidden from view, so as not to affect the gate's aesthetic appeal.
The battery-driven 24V DC motor, combined with the tried and tested CENTURION CP77 controller, supports a number of useful operating features.
The motor is easy to set up, and most importantly, offers safe anti-crushing operation with power failure protection
Main features
Battery backup
This operator is driven by two 7Ah batteries which ensure reliable operation even when the lights go out. For extended power failure autonomy these batteries can be upgraded.
Safe, quiet and reliable operation
It's kind of like having a magic wand. With the touch of a button on your remote control these virtually invisible gate motors silently, smoothly and powerfully open and close your gate. Their strong performance is matched only by their sensitive safe anti-crushing protection control, keeping you and your family both secure and safe.
Hidden from view – won't affect the aesthetic appeal of gates
Beauty is in the eye of the beholder, and also in your gate design. The CENTURION IT24N underground swing gate motors are mounted flush with the surface of your roadway and virtually disappear altogether, leaving your gate completely unobscured.
Automate gates with limited to no sidewall space
Narrow entrances, with limited space between the gate and wall, are no problem for the IT24N. Being mounted between the gate itself, these operators are capable of being installed just about anywhere.
Extremely potent and reliable motor reduction unit
Solid mechanical components made of steel to ensure reliable operation and robust long-term strength are coupled to the 24V DC motor which delivers a whopping 360Nm of torque. The IT24N is the ideal operator for large domestic gates or light-industrial applications.
Multiple operating features
Whether you are a one man band, or part of a large, extended family, the IT24N with its CP77 controller controller has an operating mode to suit your access automation needs. Choose between Standard, Condominium or PIRAC Beam Autoclose Modes. In addition there are a whole list of additional features to choose from, such as Pedestrian Opening, Pillar Light Control, Free-exit Opening, Remote Gate Status Indication, Closing Safety Beams and Gate Leaf Delay.
Models
IT24N – Powerful underground swing gate operator for domestic and light-industrial application.