ViRDI FOH02 RF Take-on Reader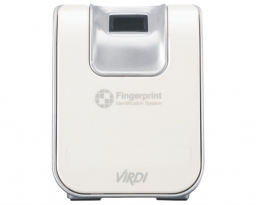 Biometric technology is widely considered to be the most effective and reliable means of controlling access, and the acclaimed ViRDI range offers some of the most technologically advanced solutions on the market today. With its patented Live and Fake Fingerprint Detection technology, and boasting individual registration and authentication, automatic finger scanning as well as push communication technology, ViRDI has truly earned its place as one of the world's leading biometric access control manufacturers.
Award-winning USB fingerprint reader with Live and Fake Fingerprint Detection Technology. Also incorporates an RFID reader.
Main features
125kHz Proximity Card and Fingerprint Enrolment Support
Patented VirdiViRDI Fake Fingerprint Detection – can detect fingerprints made from paper, silicon, wax, etc.
It is convenient to use as it does not require users to carry special tools for verification
Uses 500dpi high-capacity fingerprint recognition sensors for fast and accurate verification
Insert into PC's USB terminal for easy recognition and installation